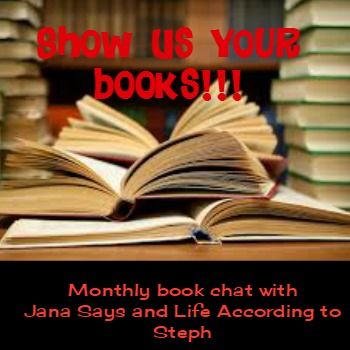 Well I finished my book goal for the year and we still have a little over two months left to go. I'll just have to make it higher yet again, lol!
The Royal We by Heather Cocks *****
Walk Through Fire by Kristen Ashley *****
How Forever Feels by Laura Drewry *****
Chasing River by K.A. Tucker *****
Nuts by Alice Clayton *****
Beneath This Ink by Meghan March *****
Reapers and Bastards: A Reapers MC Anthology (Reapers MC, #4.5) by Joanna Wylde ****
Breaking a Legend by Sarah Robinson ****
The Closer You Come by Gena Showalter ****
Beautiful Redemption by Jamie McGuire ****
Sinner's Steel by Sarah Castille ***
Spinster: Making a Life of One's Own by Kate Bolick ***
Five Stars
The Royal We by Heather Cocks *****
This was soooo good and I'm so glad Kristen raved about it in July and here we are October before I got around to reading it. If you loved anything to do with the Royal shenanigans and love story of William and Kate, even just a little bit; especially the Lifetime movie this book is totally for you. I laughed, I cried, HUGE tears at several parts and I loved almost every second of it. It was a little long winded for me with LOTS of detail so I ended up skipping a lot toward the end but I wish I could experience it again for the first time and that is a good sign for a book!
Synopsis:
American Rebecca Porter was never one for fairy tales. Her twin sister, Lacey, has always been the romantic who fantasized about glamour and royalty, fame and fortune. Yet it's Bex who seeks adventure at Oxford and finds herself living down the hall from Prince Nicholas, Great Britain's future king. And when Bex can't resist falling for Nick, the person behind the prince, it propels her into a world she did not expect to inhabit, under a spotlight she is not prepared to face.
Dating Nick immerses Bex in ritzy society, dazzling ski trips, and dinners at Kensington Palace with him and his charming, troublesome brother, Freddie. But the relationship also comes with unimaginable baggage: hysterical tabloids, Nick's sparkling and far more suitable ex-girlfriends, and a royal family whose private life is much thornier and more tragic than anyone on the outside knows. The pressures are almost too much to bear, as Bex struggles to reconcile the man she loves with the monarch he's fated to become.
Which is how she gets into trouble.
Now, on the eve of the wedding of the century, Bex is faced with whether everything she's sacrificed for love-her career, her home, her family, maybe even herself-will have been for nothing.
Walk Through Fire by Kristen Ashley *****
This gave me everything a Kristen Ashley motorcycle book has given me in the past and more because it was a reconnected romance. I think the most annoying part about the entire book was the spoiled child of High. High and Millie were together for three years when she ended things abruptly and she has basically stopped "living" since then. High went on to have a life and family but never found anyone that measured up to his Millie.
Full Review to Come closer to release date!
Synopsis:
Millie Cross knows what it's like to burn for someone. She was young and wild and he was fierce and even wilder-a Chaos biker who made her heart pound. They fell in love at first sight and life was good, until she learned she couldn't be the woman he needed and made it so he had no choice but to walk away. Twenty years later, Millie's chance run-in with her old flame sparks a desire she just can't ignore. And this time, she won't let him ride off . . .
Bad boy Logan "High" Judd has seen his share of troubles with the law. Yet it was a beautiful woman who broke him. After ending a loveless marriage, High is shocked when his true love walks back into his life. Millie is still gorgeous, but she's just a ghost of her former self. High's intrigued at the change, but her betrayal cut him deep-and he doesn't want to get burned again. As High sinks into meting out vengeance for Millie's betrayal, he'll break all over again when he realizes just how Millie walked through fire for her man . . .
How Forever Feels by Laura Drewry *****
I really, really, REALLY liked this book. So much in fact I can't wait to go back in time and read the first three in this series. I believe these are each stand alone books, but there were definitely a few times they alluded to things in previous books. If you're looking for a touching, romantic read that also has other elements than just the fluff this is a great book that I didn't want to put down. Full Review Available!
Synopsis:
Maya McKay's heart is as big as Jack Rhodes's shoulders are broad. Their chemistry is out of control, but it could never work between them because Jack is more than just best friends with her cheating ex-husband—they're like brothers. Maya, the sensitive, practical florist, has given up on love and is ready to settle for like. But now that Jack's around again, he's stirring up old feelings—and turning Maya's fantasies into irresistible reality.
Jack blew his chance with Maya years ago when he stepped aside for his best friend, Will, and he's still kicking himself about it. Maya was promised forever once before, and she got burned. But when Jack realizes that second chances aren't going to fall out of the sky, he seizes the moment—and the woman he's always loved—to show her how forever truly feels.
Chasing River by K.A. Tucker *****
This book was so slow getting into it, even with all of the action that happens in the beginning but I'm so glad I kept going. I have really enjoyed everything I have read by K.A. Tucker, some more than others and it's in the final pages of each book that I realize I want to give it five stars, lol.
Synopsis:
Armed with two years' worth of savings and the need to experience life outside the bubble of her Oregon small town, twenty-five-year old Amber Welles is prepared for anything. Except dying in Dublin. Had it not been for the bravery of a stranger, she might have. But he takes off before she has the chance to offer her gratitude.
Twenty-four-year-old River Delaney is rattled. No one was supposed to get hurt. But then that American tourist showed up. He couldn't let her die, but he also couldn't risk being identified at the scene—so, he ran. Back to his everyday life of running his family's pub. Only, everyday life is getting more and more complicated, thanks to his brother, Aengus, and his criminal associations. When the American girl tracks River down, he quickly realizes how much he likes her, how wrong she is for him. And how dangerous it is to have her around. Chasing her off would be the smart move.
Maybe it's because he saved her life, or maybe it's because he's completely different from everything she's left behind, but Amber finds herself chasing after River Delaney. Amber isn't the kind of girl to chase after anyone.
And River isn't the kind of guy she'd want to catch.
Nuts by Alice Clayton *****
Just like every other Alice Clayton book I have ever read this had plenty of laughs to go along with the romance and the smut. I thoroughly enjoyed the small town setting in the upper North East New York because while it seemed similar to my life, it was different in many ways. If you like quirky, loveable characters and humor, pre-order Alice's book before it's out later this month!
Synopsis:
After losing almost all of her clients in one fell swoop following an accident involving whipped cream, private chef to Hollywood's elite Roxie Callahan gets a call from her flighty mother, saying she's needed home in upstate New York to run the family diner. Once she's back in the Hudson Valley, local organic farmer Leo delivers Roxie a lovely bunch of walnuts, and soon sparks—and clothing—begin to fly. Leo believes that everything worth doing is worth doing slowly…and how! But will Roxie stay upstate, or will the lure of West Coast redemption tempt her back to Tinseltown?
Beneath This Ink by Meghan March *****
The pacing, back story and romance in this book were so wonderful I did NOT want to put it down. I love seeing characters being charitable in romance because even though it's fiction it puts that charitable bug in my brain and makes me want to do more good for the world! Hot tattoed dudes with hearts and alpha tendencies may be a weakness of mine!
Synopsis:
I've always known she was too good for me, but that never stopped me from wanting her.
And then I finally had her for one night.
A night I don't remember.
I figured I'd blown my shot.
But now she's walked back into my life, and this time, I have the upper hand. I want my second chance.
Will she be able to see the man beneath this ink?
Four Stars
Reapers and Bastards: A Reapers MC Anthology (Reapers MC, #4.5) by Joanna Wylde ****
So cheap at only $0.99 and you get a little dose of motorcycle club romance and maybe even smut? I can't remember. My favorite was the Novella, Charming Bastard and I wanted MORE! I pimped this book hard because its an affordable way to see if you're interested in diving into this series.
Synopsis:
From the New York Times bestselling author of the
Reapers Motorcycle Club
and
Silver Valley
series comes an anthology of extras and never-before-released material, including a new short story featuring fan favorites Horse and Marie.
Charming Bastard: A Novella
I first met Riley Boone when I was four years old. We moved to Callup, Idaho after my dad blew out his back and had to go on disability. Boonie's family lived next to ours. Every afternoon he'd swagger off the school bus after kindergarten like a conquering king. For the first week he ignored me, until I impressed him by climbing nearly thirty feet up in the tree behind his trailer. They had to call the fire department to get me down, but it was worth it to see the respect in his five-year-old eyes. He gave me a worm in honor of my accomplishment. I fell in love. The next day he made me eat the worm and our relationship has been complicated ever since.
(Until now, this novella has been exclusively available in the paperback edition of Silver Bastard.)
Sticky Sweet: A Short Story
Horse and Marie met for the first time in Reaper's Property. Now experience this moment through his eyes. (Originally available on the author's website.)
NEW Skunked: A Short Story
Marie has some BIG news to share with Horse—news that will change both their lives forever….
NEW Sugar and Spice: A Short Story
A prequel to Reaper's Fall, this story features Painter and Melanie's first meeting.
PLUS: Becca's Huckleberry Pie recipe, Marie's Bread recipe and Emergency Skunk Cleaning recipe.
Breaking a Legend by Sarah Robinson (4 almost 5 stars)
I think my biggest praise for Breaking a Legend is that the relationship develops as slowly as it can in a book and it felt like a lot of love stories I've seen in my own life. The book starts with their first meeting and then it's not like he's putting the moves on her, he's simply being there for her and holding back the possessive alpha that a lot of romance novels have right away. Don't worry though, he eventually lets it out and it may be just what Clare needs.
Full review available!
Synopsis:
As one of the big names at his family's gym, Legends, MMA star Rory Kavanagh is used to being in the spotlight—until a gruesome leg injury knocks him out of the cage. Rory is left feeling sidelined in more ways than one, battling the inner demons that come with losing the one shot at his dreams. Then Clare walks into his life and gives him a new dream: winning her heart. There aren't many new faces in Woodlawn these days, but this tough, beautiful stranger makes Rory want to get his life back into fighting shape.
Clare Ivers doesn't think she'll be able to tell anyone what really brought her to the close-knit Bronx neighborhood where she just started bartending. But her life's on pause and her past is catching up fast, try as she might to move on—with new friends, steady work, and a chiseled alpha male trying to get her attention. Even though Rory's more than a little intense, she can't deny that her heart beats faster when he looks at her with those soulful silver eyes. Clare thought she was done with love, but Rory might just be man enough to show her she thought wrong.
The Closer You Come by Gena Showalter ****
I swoon hard when a bad boy is a good guy and I love the setting of a small town where everybody knows your business because that's how I grew up. I'm definitely interested in seeing what the rest of this series brings for Jase's friends and just reserved book two at the library!
Full review available.
Synopsis:
New York Times bestselling author Gena Showalter introduces the Original Heartbreakers, where three not-quite-reformed bad boys are about to meet the women who will bring them to their knees.
Just released from prison, Jase Hollister has a dark and twisted past. And now, he has only one goal: stay out of trouble. Strawberry Valley, Oklahoma, sounds like the perfect place for him and his two brothers-by-circumstance to settle down and live a nice, simple life. But model citizen isn't exactly this rugged bachelor's default setting—especially when it comes to a certain hot-blooded Southern beauty…
Brook Lynn Dillon has always been responsible. Not that it's done her much good. The down-on-her-luck waitress is broke, single and fun-deprived. Until Jase comes along. He is dangerous, stunningly protective, breathtakingly sexy and as tempting as sin, and the passion sizzling between them is undeniable. But can it melt her resistance? After all, the right kind of trouble might be just what they both need.
Beautiful Redemption by Jamie McGuire ****
is the second book in the Maddox Brothers series and I loved it SO MUCH more than the first one. We already knew a lot more about this brother yet there was a great story and none of that "I know what's going to happen in the end stop being elusive" hullabaloo the last one had for me.
Synopsis:
If A Maddox boy falls in love, he loves forever. But what if he didn't love you, first?
No-nonsense Liis Lindy is an agent of the FBI. Deciding she is married only to her job, she breaks off her engagement and transfers from Chicago to the field office in San Diego. She loves her desk. She is committed to her laptop. She dreams of promotions and shaking hands with the director after cracking an impossible case.
Special Agent in Charge Thomas Maddox is arrogant, unforgiving, and ruthless. He is tasked with putting away some of the world's toughest criminals, and he is one of the best the Bureau has to offer. Though, as many lives as he's saved, there is one that is beyond his reach. Younger brother Travis is faced with prison time for his involvement in a basement fire that killed dozens of college students, and the media want a conviction. Travis's only savior is his unusual tie to the mob. In a deal that will spare his brother, Thomas has agreed to recruit Travis into the FBI.
Liis is stubborn, defiant, and yet somehow softens Thomas's rough edges, making her the perfect agent to accompany him to the ceremony. Posing as a couple, they must travel to Travis & Abby's beach vow renewal and give him the news, but when the pretending ends, she finds herself wondering if they were pretending at all.
In the second installment of the Maddox Brothers books, experience firsthand the mysterious world of the elusive Thomas Maddox, and how good love can be when you're not the first, but the last.
Three Stars
Sinner's Steel by Sarah Castille ***
While I loved this story and am hoping the other books in the this series don't fall under the same star rating as this one, I rated this rather harshly due to two things. The typos were repeated throughout the book and it just made reading difficult for me. The other thing that turned me off was the heroine and if you know me you know I can usually overlook BOTH of these things. This book did have strong women, for as wishy washy as the main character was she wasn't afraid of much when it came to protecting what was hers.
Full review available!
Synopsis:
HE'S HELL ON WHEELS.
Tall, dark, and dangerously handsome, Zane "Tracker" Colter is the strong, silent type of tattooed muscle biker who drives women wild. But as a master of strategy for the outlaw MC club, Sinner's Tribe, he doesn't have time to play around with groupies and biker chicks-especially when he can't stop thinking about Evie, the girl who got away...
SHE'S PLAYING WITH FIRE.
Evie's been in love with Zane ever since they were children-until he broke her heart and disappeared. Now he's back in her life, bigger and badder than ever. Zane is stunned by how beautiful and confident Evie's become, using her artistic talent to customize motorcycles. He wants her so bad, he'd ride through fire to win her back. There's one problem: Evie is dating his deadliest rival-the leader of the Black Jacks-and if Evie and Zane hook up, there'll be hell to pay...
Spinster: Making a Life of One's Own by Kate Bolick ***
This was a huge letdown for me because I had such high hopes given that there are a lot of women choosing to remain single in 2015 and I am one of them. However for as unmarried as Bolick may be, throughout the book she jumped from one long term relationship to the next and really only included the stories of other unmarried, yet attached women throughout history.
Full review available!
Synopsis:
"Whom to marry, and when will it happen—these two questions define every woman's existence."
So begins
Spinster
, a revelatory and slyly erudite look at the pleasures and possibilities of remaining single. Using her own experiences as a starting point, journalist and cultural critic Kate Bolick invites us into her carefully considered, passionately lived life, weaving together the past and present to examine why­ she—along with over 100 million American women, whose ranks keep growing—remains unmarried.
This unprecedented demographic shift, Bolick explains, is the logical outcome of hundreds of years of change that has neither been fully understood, nor appreciated. Spinster introduces a cast of pioneering women from the last century whose genius, tenacity, and flair for drama have emboldened Bolick to fashion her life on her own terms: columnist Neith Boyce, essayist Maeve Brennan, social visionary Charlotte Perkins Gilman, poet Edna St. Vincent Millay, and novelist Edith Wharton. By animating their unconventional ideas and choices, Bolick shows us that contemporary debates about settling down, and having it all, are timeless—the crucible upon which all thoughtful women have tried for centuries to forge a good life.
Intellectually substantial and deeply personal, Spinster is both an unreservedly inquisitive memoir and a broader cultural exploration that asks us to acknowledge the opportunities within ourselves to live authentically. Bolick offers us a way back into our own lives—a chance to see those splendid years when we were young and unencumbered, or middle-aged and finally left to our own devices, for what they really are: unbounded and our own to savor.
What's next?
I'm listening to a couple Kristen Ashley books in her Colorado Mountain series and reading
Alex
(hockey player romance) which I read like the
third book first
and am catching up! Then I'll either start
Something Beautiful
or
Throne of Glass
!
Are we friends on Goodreads!!
What are you reading and loving lately?