This weekend was good but pales in comparison to
what I have coming up
and today is all about the books!! I love sharing these with you and can't wait to see what you've read! This month I didn't read near as much as I had in the past two months. What can I say? I can tell the Summer is coming to a close and I'm feeling guilty about not getting to my challenge list, lol. I also had a book expire from the library before I had a chance to finish it!! #rage
A couple of these books were FREE when I went to grab their links on Amazon so make sure to download them if they're still FREE while you can!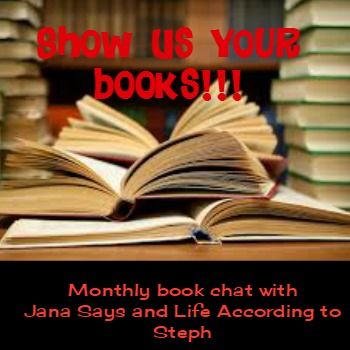 The 5th Wave by Rick Yancey ****
Tough Love by Lori Foster *****
Happenstance 2 by Jamie McGuire ****
Happenstance 3 by Jamie McGuire *****
Chasing the Sun by Tracie Peterson *****
(FREE)
Come Away with Me by Kristen Proby ***
(FREE)
Zack by Bennett Sawyer *****
Win Me Over by Nicole Michaels *****
Overruled by Emma Chase *****
The 5th Wave by Rick Yancey ****
This was a Young Adult Fantasy book about Aliens. It kept my attention and had an intriguing plot. It's not my normal cup of tea and it was a little hard to follow in some parts but I enjoyed it and think if you like this genre make sure you read it. It's supposed to be a movie soon!
Synopsis:
After the 1st wave, only darkness remains. After the 2nd, only the lucky escape. And after the 3rd, only the unlucky survive. After the 4th wave, only one rule applies: trust no one.
Now, it's the dawn of the 5th wave, and on a lonely stretch of highway, Cassie runs from Them. The beings who only look human, who roam the countryside killing anyone they see. Who have scattered Earth's last survivors. To stay alone is to stay alive, Cassie believes, until she meets Evan Walker.
Beguiling and mysterious, Evan Walker may be Cassie's only hope for rescuing her brother—or even saving herself. But Cassie must choose: between trust and despair, between defiance and surrender, between life and death. To give up or to get up.
Tough Love by Lori Foster *****
You read my full review
here
, but know this series keeps getting better and better. I can't wait for the next book to come out! I love the fmaily dynamic between these fighters and their strong women!
Synopsis:
She's playing hard to get… to win the MMA fighter of her ultimate fantasies in a sultry new novel from New York Times bestselling author Lori Foster…
Vanity Baker loves a good, clean match, but she's not above playing a little dirty. She's wanted Stack "The Wolf" Hannigan from day one. Seems as though the best way to corral the famously commitment-phobic fighter is to insist on keeping it casual. And her plan works—deliciously well—until Stack's past steps out of the shadows.
Stack learned early to stay free of attachments. But with sexy, forthright Vanity, he's the one always left wanting more. Then his troublemaking family comes back into the picture, threatening everything Stack cares about—Vanity included. Suddenly he realizes they're much more than friends with benefits. He's ready to go to the mat for her…but will it be in time to protect the woman who's tamed him for good?
Happenstance 2 by Jamie McGuire ****
While I loved the first Novella in this series, I wasn't as impressed with this one and then the last one in the series redeemed the series for me. I do think this could have been an entire book but can also see how it worked this way between the first and second book.
Synopsis:
Erin Easter was now Erin Alderman, because Erin Alderman was dead.
In the second installment of this USA Today bestselling series, follow protagonist Erin, a high school senior in tiny Blackwell, Oklahoma. After a terrible accident leaves two classmates dead, Erin learns that she was switched at birth. Shortly after, she moves into the home of her true parents, Sam and Julianne Alderman, transforming Erin over night from pariah of Blackwell High School, to the only child of one of the most affluent couples in town.
Also being pursued by her childhood crush, Weston Gates, the dream she once had is now reality. But when Erin stumbles upon secrets that gives her the answers she's been searching for, she also finds a truth she never wanted to know.
Happenstance 3 by Jamie McGuire *****
This was a good ending to the Novella series and I loved the relationship growth between Erin and Weston throughout the series.
Synopsis:
Be careful what you wish for. You just might get it all.
Now that Erin has learned the truth about the girls who tortured her, and about the boy she loves, she finds her time before graduation dwindling at an alarming and exciting pace. What used to be summer break was now a countdown to her final days in Blackwell. Her parents, Sam and Julianne struggle with the fear that just when they've found Erin, they must let her go, and the tension is higher than it's been since Erin discovered who she really was.
Finally with the girl he's loved since childhood, Weston grows more desperate as the summer days pass. He and Erin will go to separate colleges. His biggest fear is that this means they'll go their separate ways. Plagued with making the best of the time he has left with Erin, and finding a way to make it last, Weston finds himself in a different state of mind hourly. He is just beginning to realize that hope is like quicksand. The harder Weston struggles, the faster Erin sinks.
Chasing the Sun by Tracie Peterson *****
This is a historical inspirational romance and it involves cowboys and indians. Most of the time I don't read historical fiction but a friend of mine recommended this and it was really good. My favorite parts involved the Indians/Native Americans, probably because I don't read a lot of stuff about them and find their histories fascinating.
Synopsis:
Tracie Peterson Embarks on a New Texas Series
When her father disappears in war-torn Mississippi, Hannah Dandridge finds herself responsible not only for her younger siblings but for the ranch her father recently acquired on the Texas plains. Though a marriage of convenience could ease her predicament, she determines to trust God for direction.
Wounded soldier William Barnett returns to his home only to discover that his family's ranch has been seized. Though angry and bitter at this turn of events, he's surprised to discover that it is a beautiful young woman with amazing fortitude who is struggling to keep the place running.
Hannah, desperate for help, and William, desperate to regain his family's land, form an uneasy truce. But nearby Comanche tribes, the arrival of Confederate soldiers, and a persistent suitor all threaten the growing attraction that builds between them. Will they be able to set aside their own dreams and embrace the promise of a future together?
Come Away with Me by Kristen Proby ***
This was a free book and the first in a series that I've had book THREE on my list for two years. While I enjoyed the premise, I definitely thought there was way too much sex. It was like EVERY other page had some sexual act going on and it didn't always mesh with the story. I've been debating reading the rest of the series because I can't get it free from the library and don't want to risk spending money if it's going to be the same thing, different day.
Synopsis:
Being confronted on the beach by a sexy stranger wasn't part of Natalie Conner's plans for a peaceful morning taking photos. And why on earth would he think she's taking pictures of him, anyway? Who is he? One thing's for sure, he's hot, and incredibly romantic, feeding Natalie's wounded soul.
Luke Williams just wants the world to give him a break, so seeing yet another camera aimed at his face has him ready to pounce on the beauty behind the lens. When he finds out she has no idea who he is, he's intrigued and more than a little tempted by her. Natalie has a body made for sex, a sassy mouth and Luke can't get enough of her, but he's not ready to tell her who he really his.
Natalie is a no nonsense girl who doesn't do well with lies and secrets. What will happen to this new relationship when she discovers what Luke's hiding?
Zack by Bennett Sawyer *****
Unf! Hockey Player, check. DILF, check. This is a series I am looking forward to reading more of! I loved the relationship that developed between Zack and Kate throughout the book. Even when it wasn't supposed to be MORE, it always was. The
fourth book
in this series comes out TODAY, so the
first book
is only $0.99!! I'm starting it soon!
Synopsis:
Rising star Zack Grantham has been stuck in a downward spiral of grief ever since the car accident that left him a single dad and put his career on hold. Back on the road with the Carolina Cold Fury and still crippled by emotional baggage, he's in need of some serious help with his son. But while the nerdy new nanny wins his son's heart, Zack isn't sure he's ready for a woman's touch—even after getting a glimpse of the killer curves she's hiding under those baggy clothes.
Kate Francis usually keeps men like Zack at a distance. Though his athlete's body is honed to perfection, he refuses to move on with his life—and besides, he's her boss. Still, the sparks between them are undeniable, tempting Kate to turn their professional relationship into a personal one. But before she makes a power play for Zack's wounded heart, Kate will have to open him up again and show him that love is worth the fight.
Win Me Over by Nicole Michaels *****
You can read my FULL review
here
, but I am loving this series. Each book brings a cute, simple love story that's perfect for a Sunday afternoon or a long weekend. If you're into blogging, crafting, baking, dancing, football or have a sweet tooth for a good romance this book is definitely for you.
Synopsis:
WINNING ISN'T EVERYTHING
Callie Daniels is a singular sensation. She owns and operates her own bakery, contributes to a popular lifestyle blog, and is the dance team coach at a local high school. She lives by her own design and is much too busy to consider dating. Mr. Right will have to fit into her life when the time is right...
UNLESS YOU'RE PLAYING FOR KEEPS
Football coach Bennett Clark always plays by the rules. He knows that his new colleague Callie is off limits but she's so beautiful-and irritating!-that Bennett can't get her off his mind. She wants him to participate in a charity dance contest, and won't take no for an answer. Soon, what begins as a festive athletic endeavor turns into a heated flirtation on and off the dance floor. Could it be that the free-spirited Callie has finally found a way through Coach Clark's line of defense?
Overruled by Emma Chase *****
This is the second series I've started by Emma Chase and while it took me a while to get in and love the
first one
, this one had me from page one. There was a bit of a rocky point when I realized where things might be headed but I ended up okay with where the author took it. Couldn't put it down!
Synopsis:
As a DC defense attorney, Stanton Shaw keeps his head cool, his questions sharp, and his arguments irrefutable. They don't call him the Jury Charmer for nothing – with his southern drawl, disarming smile and captivating green eyes – he's a hard man to say no to. Men want to be him and women want to be thoroughly cross examined by him.
Stanton's a man with a plan. And for a while, life was going according to that plan.
Until the day he receives an invitation to the wedding of his high school sweetheart and mother of his beloved ten-year old daughter. Jenny is getting married — to someone who isn't him.
That's definitely not part of the plan.
***
Sofia Santos is a city raised, no-nonsense litigator who plans to become the most revered criminal defense attorney in the country. She doesn't have time for relationships or distractions.
But when Stanton, her "friend with mind-blowing benefits" begs for help, she finds herself out of her element, out of her depth, and obviously out of her mind. Because she agrees to go with him – to The-Middle-Of-Nowhere, Mississippi – to do all she can to help Stanton win back the woman he loves.
Her head tells her she's crazy...and her heart says something else entirely.
***
What happens when you mix a one stop-light town, two professional arguers, a homecoming queen, four big brothers, some Jimmy Dean sausage and a gun-toting Nana?
The Bourbon flows, passions rise and even the best laid plans get overruled by the desires of the heart.
What's next?
NUTS
by Alice Clayton - this book comes out in October and I will finish it early, I will. Especially since it may end up being my Summer read :/
Alex
by Sawyer Bennettt - the first in the series of Zack above!!
Sustained
by Emma Chase - Hopefully it comes across my holds list soon!!
#2 and #3 in the Maddox Brothers Series from Jamie McGuire. #1 was a severe disappointment, I'm hoping these two can redeem her as an author for me because I haven't read anything by her since #1.
What are you reading and loving lately?