It's Fri-Yay and I know people say don't live for the weekend, but I'm certainly not living for getting up everyday at the butt crack of dawn and spending gorgeous days inside. The weekend is where I get to see my friends and family, not the crazy people I work with. The weekend is where I get to stay up all night and sleep all day and pay for it during the work week. So maybe I don't really stay up all night but I'm always tempted to when I'm stuck in a good book, lol.
Let's get into some favorites!
Fav Song on the Radio
Fav Funnies
Fav Quotes
Fav Clown Contouring Video
To be honest, this is actually the only one I've watched but she was so funny and out there with how she applied it and wasn't sure it could get blended out, lol. She said it felt like it took her about 45 minutes to apply and I just don't see how this is a thing!
Fav Thing About August?!
My sister is moving and in just one week we'll be headed to Omaha to bring her to FL!! I couldn't BE more excited.
We're scheduled to do a garage sale tomorrow morning, and while I was excited about it now I'm thinking we'll take inventory of what we have and maybe not have one. They're saying we can only put a sign on site...I mean I know there are ways to list garage sales online but what happened to driving around looking for garage sales. If I would have bought the permit, I wish I'd have had the balls to ask so how successful have your garage sales been with no signs?
Happy Weekend!
What are some of your favorite things rcently? What are your plans for the weekend?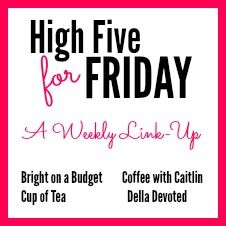 Linking up High Five for Friday with
Bright on a Budget
,
Coffee with Caitlin
,
Cup of Tea
, and
Della Devoted
!!! Also found another
Heather
in blogland that has a Friday favs link up!