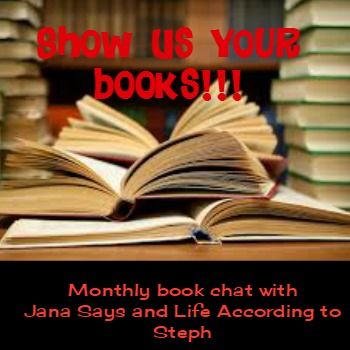 First things first, ICYMI I posted about my
TBR Jar
and shared some of my favorite Instagram Book accounts to follow so go check out that post if you missed it and then come back here to see what I've been reading and loving!!
Caught Up in the Touch
by Laura Trentham ****
Desertion
by River Savage *****
Rock Chick Rescue
by Kristen Ashley ****
Rock Chick Redemption
by Kristen Ashley *****
Lady Luck
by Kristen Ashley *****
Law Man
by Kristen Ashley *****
The Coincidence of Callie and Kayden
by Jessica Sorensen ****
The Redemption of Callie & Kayden
by Jessica Sorensen *****
Manwhore +1
by Katy Evans ***
Grey
by EL James ****
Dark Wild Night
by Christina Lauren *****
The House
by Christina Lauren *****
Caught Up in the Touch
by Laura Trentham **** I really enjoyed this book and one of the only things wrong with it was...the description of the buff, manly guy in the book DID NOT match the cover and he was described multiple times.
Read the full review here.
Synopsis:
Jessica Montgomery has always lived by three simple rules: stay calm, stay professional, stay in control. Working tirelessly to make it into the executive ranks of her family's business, her dream job of CFO is within reach--if she can convince one stubborn and sexy Alabama restaurateur to take her offer and manage Montgomery Industries flagship restaurant in Atlanta.
On the surface Logan Wilde is all good-old-boy charm and humor, but he can't seem to outrun the hell-raising reputation of his high school years. Although he has thought about leaving his hometown in Falcon Alabama, he has grown to love the town, his restaurant, and his part-time gig coaching the football team.
Jessica estimates it will take a week tops to get Logan Wilde's signature on her generous offer, but their first meeting is anything but professional. Logan shreds Jessica's control and unleashes a passion she didn't know existed even as a deeper connection between them takes root. When her family's manipulations threaten to tear them apart, Jessica has to decide whether her dream is really the CFO job or the man who has unselfishly offered his love.
Desertion
by River Savage ***** Every book I read from this series gets deeper and deeper into the storyline and adds another hot biker to my collection. Not only is Jesse a biker, he's a former marine and we were totally teased about his relationship with nurse Bell in the last book and while their story is just beginning, it sets up another great story at the end!
Synopsis:
Honor.
Courage.
Commitment.
Three things Jesse Carter has lost. A former Marine, Jesse used to stand proud of his achievements and live by the code. But when circumstance made him question everything he believed in, those most basic values didn't feel so important after all.
Sex.
Lies.
Knights Rebels.
Three things Jesse Carter has found. Reborn into a brotherhood not so different from the one he left behind, Jesse finds it all too easy to block out his past and claim the role as the Rebels' fun loving player.
Until he meets Bell.
Shy, awkward, and with troubles of her own, Bell Johnson's no stranger to hiding her pain. When Jesse forces himself into her life, she's at risk of her defences crumbling.
Does Bell have the strength to survive Jesse and his demons or is she fated to become another casualty in the self-destruction of Jesse Carter?
Rock Chick Rescue
by Kristen Ashley **** Not the best, but we got closer. I think I really just needed to learn the style of these books. Crazy chicks, getting paired up with even crazier men that don't want to see the girls hurt.
Synopsis:
Jet McAlister has a secret. Eddie Chavez has the hots for Jet (not to mention Eddie's just plain hot). Jet has too many problems to realize that Eddie's interested. Eddie loses patience when Jet ends her waitressing shift at a strip club with a knife at her throat. Since Eddie's a cop, he figures he can help. Since Jet's used to solving everyone's problems she doesn't want Eddie's help.
Throw in a Dolly Parton look-alike, a gruff but lovable strip club owner, Jet's ne'er do well father, his ne'er do well friend, Bear, Bear's long-suffering, chain-smoking wife Lavonne and the crew from Rock Chick and you've got Rock Chick Rescue.
Rock Chick Rescue takes you on a wild ride with Jet, Eddie and the gang as they wrestle bad guys in a bagel shop, hit Denver's backstreet poker tables (with big hair), and help the strippers at Smithie's take down a would-be murderer.
Through this, Jet's got to learn that even when life made you give up your dreams, you can still end up with the (hot) guy. Eddie's got to rescue Jet from a bad man (so he can do better things with her) and teach her that some dreams can come true.
Rock Chick Redemption
by Kristen Ashley ***** Finally a Rock Chick book that I LOVED!! Now I know why the others were just great, I hadn't found my favorite yet and this gives me hope that the rest of the series will continue to get better! I loooooved Hank, even more than his brother Lee. I also didn't think the Rock Chick adventures were too over the top in this one, definitely more believable.
Synopsis:
Roxie's on the run from a bad boyfriend who will not catch the hint that it is o-v-e-r. She's in no mood for love at first sight, but when her eyes fall on Hank, it's trouble from the get-go. Roxie tries to hold Hank at arms length but Hank wants to be a closer (as in, a lot closer). Roxie's trouble catches up with her and Hank wants to help but Roxie knows in her heart that she's no good for a white hat guy. The problem is no one agrees with her, especially her crazy hippie best friend Annette or her parents; the even crazier small-Indiana-town Herb and Trish. Toss into the mix the gang from Rock Chick and Rock Chick Rescue and Roxie finds herself totally outnumbered.
Climb in for another Rock Chick wild ride through Rock Chick Redemption. As the odds stack up against Roxie, she has no choice but to hold on and just ride it out through the kidnappings, car chases, society parties, a riot at the strip club, Hank getting "Mom Bombed" and one crazy night at the Haunted House.
During all this Hank works at convincing her she really wants to stay and he, along with the Hot Bunch, go all out to make her safe. Hank also needs to work on showing Roxie that her past decisions don't mean her future can't include something as downright delicious as… normal.
Lady Luck
by Kristen Ashley ***** This was a pretty heave KA month, with four books BUT she just has so many and I'm trying them all out! I loved the marriage of convenience and how it turned real pretty quick for both of them. Any man that smothers you in diamonds and went away for a crime he didn't commit is worth taking a chance on. There was only ONE part in this book that really broke my heart and it was needed for the climax. This is part of the series that I technically started KA with and ended up dismissing but now that I know the backstory I am going to give
Breathe
by Kristen Ashley another try.
Synopsis:
Since birth, Lexie Berry has had nothing but bad luck. Orphaned at an early age, she had a rough childhood and a boyfriend who was murdered. Now the beautiful, stylish Lexie is determined to change her luck and her life. But first she's got to make good on a promise: to pick up Ty Walker from prison. One look at the gorgeous ex-convict and Lexie knows she's in trouble-and already thinking about taking a walk on the wild side . . .
For five years, Ty was imprisoned for a crime he didn't commit. Now he wants revenge on the people who framed him. Yet when the high-stakes poker player sees the leggy Lexie, he suddenly has other desires on his mind. Realizing that Ty is innocent, Lexie tries to stop his plan for vengeance and help him become a better man. But as Ty battles his inner demons, dirty cops and criminals plot to take him out. Can he and Lexie find a way to escape the past?
Law Man
by Kristen Ashley ***** Boohoo, I am so sad this series is over. While some of these books had things in them that were a little out there, this was definitely one of my favorites. This couple had a history and any guy that is willing to help raise kids that aren't his own just makes my insides all gooey.
Synopsis: Love is just around the corner . . .
Sweet, shy Mara Hanover is in love with her neighbor. For four years, she has secretly watched her dream man from afar. Handsome police detective Mitch Lawson is way out of her league. She's a girl from the wrong side of the tracks, and there's no way a guy like Mitch would want anything to do with her. But when Mara has a leaky faucet that she can't fix, it's Mitch who comes to her rescue.
Mitch has been eyeing his beautiful neighbor for a long time. He jumps at the chance to help her, and soon their formerly platonic relationship gets very hot and heavy. But when Mara gets a disturbing phone call from her cousin's kids, she gets pulled back into the life she's tried so hard to leave behind. Can the hot law man convince Mara to let go of her past-and build a future with him?
The Coincidence of Callie and Kayden
by Jessica Sorensen **** Ugh, cliffhanger!! This has been on my TBR for two years when it was a Goodreads Top Romance and I'm so glad I finally got around to it. Two damaged individuals coming together and facing the world. What a great story these two have.
Synopsis:
For Kayden, suffering in silence was the only way to survive. If he was lucky, he could keep his head down, do as he was told, and make it through the day. But one night it seemed like his luck -- and his life -- might finally end... until an angel named Callie appeared just in time to rescue him.
Callie has never believed in luck. Not since her twelfth birthday when everything was taken from her. After the worst was over, she locked up her feelings and vowed never to tell anyone what happened. Now, six years later, she continues to struggle with the painful secret that threatens to consume her.
When fate lands Kayden and Callie at the same college, Kayden is determined to get to know the beautiful girl who changed his destiny. Quiet and reserved, Callie still fears letting anyone else into her world. But Kayden is certain that Callie has come back into his life for a reason. And the more he tries to be a part of her life, the more he realizes that, this time, it's Callie who needs to be saved...
The Redemption of Callie & Kayden
by Jessica Sorensen ***** This book starts with the dark before the dawn. I just can't get over how this couple fought to save each other and ended up saving themselves. Such a great conclusion to their story!
Synopsis:
The dark secret Kayden has kept hidden for years is finally out. Worse, he's facing charges for battery. The only way to clear his name is for Callie to speak up-something he'll never ask her to do. Instead, he'll do whatever he must to protect her . . . even if it means letting go of the only girl he's ever loved.
Callie knows Kayden is going back to his dark place and desperately wants to save him. But that means facing her greatest fear and admitting her own painful secrets aloud. The thought of breaking her silence terrifies her-but not as much as the thought of losing Kayden forever.
Deep in her heart, Callie knows the time has come for her and Kayden to forget the pain of the past. With the help of her friends Seth and Luke she makes a plan to show Kayden the life they could have. But can she convince him they can make a fresh start together-or is she already too late?
Manwhore +1
by Katy Evans *** Let's talk about disappointment and how this is such a far cry from the last Katy Evans series for me. I was OBSESSED to put it mildly with her first series so much that I own the first book in paperback, audio and digital. This second book in the manwhore series picked up on the cliffhanger and resolved how we were left in the first few chapters and then it was just a bunch of blah. Lots of sex, no real story and a total waste of money if I had purchased the book instead of relying on the free library, thank goodness I didn't buy it. Would have been an automatic return. There's a NOVELLA getting released in this series too, what else could it be about?! OMG.
Synopsis:
Billionaire playboy? Check.
Ruthless businessman? Check.
Absolutely sinful? Check.
Malcolm Saint was an assignment. A story. A beautiful, difficult man I was supposed to uncover for a racy exposé.
I intended to reveal him, his secrets, his lifestyle—not let him reveal me. But my head was overtaken by my heart and suddenly nothing could stop me from falling. I fell for him, and I fell hard.
Malcolm Saint is absolute Sin, and I've become a hopeless Sinner.
Now that the assignment is over, Saint wants something from me--something unexpected--and I want this wicked playboy's heart. But how can I prove to the man who trusts no one that I'm worthy of becoming his plus one?
Grey
by EL James **** I think listening to the audio book had a lot to do with my rating on this. I really felt like the narrators voice added to the storyline and I loved getting to see this story from Christian's POV. I only wish it wouldn't have just been book one and instead been all three because if she puts out all of them I', going to want to listen to all of them. #timesuck #moneyhunrgy #couldhavebeenonebook
Synopsis:
In Christian's own words, and through his thoughts, reflections, and dreams, E L James offers a fresh perspective on the love story that has enthralled millions of readers around the world.
Christian Grey exercises control in all things; his world is neat, disciplined, and utterly empty—until the day that Anastasia Steele falls into his office, in a tangle of shapely limbs and tumbling brown hair. He tries to forget her, but instead is swept up in a storm of emotion he cannot comprehend and cannot resist. Unlike any woman he has known before, shy, unworldly Ana seems to see right through him—past the business prodigy and the penthouse lifestyle to Christian's cold, wounded heart.
Will being with Ana dispel the horrors of his childhood that haunt Christian every night? Or will his dark sexual desires, his compulsion to control, and the self-loathing that fills his soul drive this girl away and destroy the fragile hope she offers him?
Slow Summer Kisses
by Shannon Stacey **** This was a cute, easy summer read that was unfortunately only 80 pages so I couldn't use it for a Literary Ladies Summer Book Challenge book, but it was still good. Two adults that played together as kids. One has chosen to get out of the fast life and the other is forced out, trying to find her way back to it, but is that what she really wants after spending the Summer rediscovering the simple life with her neighbor?
Synopsis:
Anna Frazier is used to living life at 100 mph, but being downsized out of a job in the financial industry has her permanently stalled. With nowhere to "go, go, go, " Anna hails a cab to her grandparents' neglected New Hampshire camp to plan her next move. It seems like a good idea--until she realizes there's no takeout to be had and the boy next door has grown into a sexy but surly recluse.
Cameron Mayfield knows he can kiss his peace and quiet goodbye when Hurricane Anna blows in. She was loud and bossy as a ten-year-old--and besides developing some attractive curves, she hasn't changed. Cam's not looking for a relationship, especially not with a woman like Anna. He nearly broke down on that road once before. So why can't he stop thinking about her?
It's not long before their sizzling attraction leads to smoking-hot kisses. But as the days get shorter, Anna must decide if she's found a new road to happiness, or just taken a detour.
These next two are books, come out over the next two months, so add them to your TBR list!!
Dark Wild Night
by Christina Lauren ***** This is the third book in the series and while I loved Finn (book 2) for all his handsome, strong ruggedness I am absolutely loving the sweet, spicy Oliver. OMG comic book nerds really never did anything for me, but Oliver gives them such a great front. He's so perfect for Lola and this is a really great friends to lovers story!!
Synopsis: What happens in Vegas, stays in Vegas.
But what didn't happen in Vegas seems to follow them everywhere.
Lola and Oliver like to congratulate themselves on having the good sense to not consummate their drunken Las Vegas wedding. If they'd doubled-down on that mistake, their Just Friends situation might not be half as great as it is now.
... Or so goes the official line.
In reality, Lola's wanted Oliver since day one—and over time has only fallen harder for his sexy Aussie accent and easygoing ability to take her as she comes. More at home in her studio than in baring herself to people, Lola's instinctive comfort around Oliver nearly seems too good to be true. So why ruin a good thing?
Even as geek girls fawn over him, Oliver can't get his mind off what he didn't do with Lola when he had the chance. He knows what he wants with her now ... and it's far outside the friend zone. When Lola's graphic novel starts getting national acclaim—and is then fast-tracked for a major motion picture—Oliver steps up to be there for her whenever she needs him. After all, she's not the kind of girl who likes all that attention, but maybe she's the kind who'll eventually like him.
Sometimes seeing what's right in front of us takes a great leap of faith. And sometimes a dark wild night in Vegas isn't just the end of a day, but the beginning of a bright new life...
The House
by Christina Lauren ***** OMG I do not WATCH or READ scary things but for these girls I've had to read TWO "scary" books, lol. The first one was more mystery than horror and you can read a few thoughts about it
here
. This book is labeled YA Horror Romance and it delivered on all fronts. I had to read this in the bright light of daytime and I still felt my apartment tremor and shake like the possessed house in this book and it's never done that before. Everything in House is alive and while it's done nothing but take care of Gavin his entire life, things start changing when he brings someone else into the picture. This would make a GREAT horror movie, that I would not be able to watch and the book is coming out just in time for Halloween, so if you like the scare factor but also like the swoon of YA romance, this book is for you.
Synopsis:
Gavin tells Delilah he's hers—completely—but whatever lives inside that house with him disagrees.
After seven years tucked away at an East coast boarding school, Delilah Blue returns to her small Kansas hometown to find that not much has changed. Her parents are still uptight and disinterested, her bedroom is exactly the way she left it, and the outcast Gavin Timothy still looks like he's crawled out of one of her dark, twisted drawings.
Delilah is instantly smitten.
Gavin has always lived in the strange house: an odd building isolated in a stand of trees where the town gives in to mild wilderness. The house is an irresistible lure for Delilah, but the tall fence surrounding it exists for good reason, and Gavin urges Delilah to be careful. Whatever lives with him there isn't human, and isn't afraid of hurting her to keep her away.
What's next?
Spinster
is a more satirical, non-fiction that I'm trying to make my way through. It's a hard back book and not as easy to read on the go. It's my pool read and with all the rain has not gotten finished.
It seems I'm always playing catch up with my library books, including
Happenstance 2
that I reviewed the first one
here
and working my way through my
Litarary Ladies Summer challenge
list.
What are you reading and loving lately?