It's Friiiiidaaayyy! And apparently my book review scheduled for yesterday didn't post. #clueless This is what I get for not checking into blog land yesterday!
How has your week been?
This was a four day work week but it's been a doozey. I think when the sun is shining, EVEN with the rain I still would rather be outside than indoors working.
1. Adult Coloring Books
I think my friend Jess first mentioned these and I vaguely was like "oh my mom just gave me a coloring book for my birthday" then I googled it this week to send in a box swap and OMG fell in love with this designer/artist. Johanna Basford puts out great adult coloring books. I ordered the Enchanted one to give and one for myself, plus I can't wait to pre-order her
Lost Oceans
one. She has a free Hi-Res image you can print out and color on her site if you want to give coloring as an adult a try!!
2. Fav NEW Summer Polish
which I mentioned this in my
Sunkissed Summer
post, because it's my Summer Nail Polish right now, but I am absolutely loving the Orly bright pink Magical Voice from the Ariel collection. You can check out all of the other things they have in the Dare to Dream makeup section in Walgreens at
Nouveau Cheap
. Thanks to
Nadine
for posting about these on Instagram!!
3. Fav thing I've been eyeing not to purchase
but hopefully a Christmas gift.
4. Fav read
this week has been
Caught Up in the Touch
by Laura Trentham. I've been reading this book for a review coming up next week and it really makes me miss the small town feel and is also making me super excited for Fall and football!!
5. Essential Oils!!
I went to a Young Living house party last night and got to see/smell what is in their starter kit. As for the kit I have, it's another brand highly used in the states, Doterra and I'm thinking about trying a kit from Young living too because you get different oils AND some of the things that are supposed to work "instantly" just don't in the Doterra one for me.
The YL starter kit comes with a diffuser and that's ONE thing I really want to try them with. Have you ever tried either?
What are some of your favorite things this week? What are your plans for the weekend?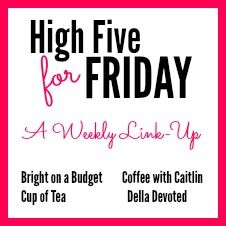 Linking up High Five for Friday with
Bright on a Budget
,
Coffee with Caitlin
,
Cup of Tea
, and
Della Devoted
!!! Also found another
Heather
in blogland that has a Friday favs link up!