Ya'll it's Friday and I just cannot believe how excited I was to start today so five o'clock could roll around and I could welcome in the weekend. When you have a few short weeks due to Holidays and other days off, that first week back to FIVE freaking days just seems to take FOREVER, right?!
It's Summer, and that usually means people are enjoying the fabulous weather, no school (which also means less traffic for me, yay) and summer vacations. I thought instead of just doing a random round up, though those ARE my favorite things, I would share my favorite things about Summer, specifically.
1. Vacations
Living in Florida, we're #2 on the list of
America's 10 Most Popular Summer Vaca Destination
s and I couldn't agree more. There is so much to do and if you don't care about rides, it doesn't
have
to cost an arm and a leg.
Now, with the vacation destination status, means we deal with a different kind of traffic but that's one of the prices in paradise.
2. Sunshine!!
June has the longest day of the year and I love the longer days we enjoy during the Summer due to a few things. One, I'm afraid of the dark...I know, I'm thirty and super afraid of the dark. Two, you feel like you have so much time in your day,
even
if your bed time doesn't change during the Summer.
3. Family, Friends, Grillin' and Chillin'
We've always been the kind of people that grill (and smoke meat) all year. Even in Kansas, with snow on the ground my dad would be out back under the porch with his shorts, boots and coat on grilling out. Want to learn how to grill - check out
my post
where my dad walked me through how to get the charcoals started without lighter fluid.
4. Fresh Fruit
The price for fresh fruit goes super low when it's in season and I love enjoying it at super low prices. For a lot of people, it's the only time they eat Watermelon, but since I'm allergic that's not me.
5. So You Think You Can Dance!
I have a lot more time on my hands during the Summer, because the only show I watch is
SYTYCD
. Now, I've only been watching that show for about four years, so I have no idea what I did for TV before that, other than wait impatiently for the Fall shows to return. We also love
The Great Food Truck Race
, but that's not on right now, so I only kind of include it. Do you have any Summer TV shows you watch?
Honorary Mention - Street Fests!
In Florida we get these what seems like all year, I mean Christmas is still usually around the 70's so we're incredibly blessed BUT I love going to any type of town festival or party during the Spring and Summer months. This was mom and I at just one of many we've been to over the years.
What are some of your favorite things about Summer? What are your plans for the weekend?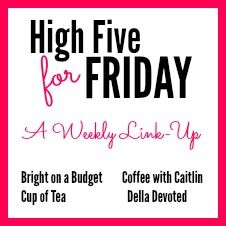 Linking up High Five for Friday with
Bright on a Budget
,
Coffee with Caitlin
,
Cup of Tea
, and
Della Devoted
!!! Also found another
Heather
in blogland that has a Friday favs link up!