Happy Friday!! Five day work weeks sure make me anxious for the weekend to get here and this week things were a little up in the air at work so I'm ready for the much needed down time that comes with the weekend.
While I can enjoy my wine and love a good Sangria, my absolute favorite alcoholic beverage is a margarita. Because I love margaritas so much I've found other ways to enjoy the key ingredient...tequila!
In case you didn't know, it's National Tequila Day and should definitely be celebrated. These are my FIVE Favorite ways to use Tequila.
1. Margaritas, of course!
This is the very first margarita recipe I started using. Last time my sister was home, she showed me a different variation with a little bit of added water and something else, I think so I'll be sharing that on the blog in the near future. I thought I had already shared it, but you know I'm a slacker.
2. Baking
This
Tequila Lime Cheesecake bar
is the bomb.com. The refreshing citrus makes it a perfect Summer treat to serve at your next party. The recipe I used is
here
, BUT next time I make it I won't be lining the dish with aluminum foil. It was a disaster and a half! I also made a few variations that I think worked out just fine, so I will be tweaking, perfecting and then sharing that too.
3. Dip
OMG
this dip
was a hit at the party I took it to and I can't wait to make it again.
4. Popsicles
I actually haven't tried
these yet
, but don't they look fabulous!
5. Shots, Shots, Shots!
I asked my sister, she told me two things were good besides margs when it comes to tequila.
1. A tequila Sunrise, which is how I found those popsicles that I'll be trying when she moves home next month!!
2. As a shot and if I talk about shots I need to use the term "training wheels" when I reference the lime and salt.
Of course, when I think of shots I always think of this club song, lol.
ICYMI on My Little HEA this week
Chick-fil-a First 100 Camp Out
Inspirational Cowboy Romance
Book Review
and a Contemporary Football Romance
Book Review
. FOUR stars each!
Confessions
Literary Ladies First Month Check in
A Very Productive Weekend
What are some of your favorite things to do with liquor? What are your plans for the weekend?
I'm seeing a good friend that's in town on Saturday and then we're having our quarterly
Ladies Recipe Night
, featuring appetizers.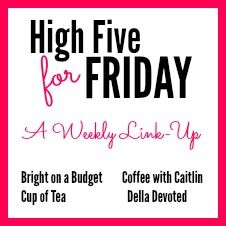 Linking up High Five for Friday with
Bright on a Budget
,
Coffee with Caitlin
,
Cup of Tea
, and
Della Devoted
!!! Also found another
Heather
in blogland that has a Friday favs link up!