Ya'll! How is it already the end of July?! I asked that same question yesterday and OMG the Summer is just flying by.
I'm so excited to share my favorites from this past month with you. There
might
be one crossover from June, BUT I bought it this month too, so that counts right?! Now, I've mentioned all of these over the last few Fridays, but be sure to watch the video at the end if you want me to gab about them a little bit more, lol!
1. Ride Steady
Yes, it was published on June 30, BUT That means most of the population didn't get to read it until this month. I went on a HUNT for the Walmart Special Edition because I
had
to have it, right? Make sure to check out my
full review
!
2. TBR Jar
I'm so excited to start using this bad boy. I'll explain the different colored papers, and all of what's behind this next week!
3. Magical Voice ORLY Polish
You guys, this polish is so bright pink. I can't get over how much I love it. It's from the Disney Dare to Dream collection available exclusively at Walgreens! Not all Walgreens are carrying them. I've been able to find them in Tampa, but not in one of the stores in the suburbs.
4. Kate Spade Glitter Studs
I was
only able to snag the pink multi-glitter earrings
last night while I was uploading my video and watching
Elle's
July Chit Chat
,
there was one of those pesky ads on the sidebar that was the multi so I clicked it and OMG the multi-ones were back in stock!! Day made!
Ugh! Just got the cancellation email because they ran out before they could fulfill my order. RAGE!! I don't want to pay full price somewhere else, lol.
5. Adult Coloring Books
Specifically Johanna Basford as I just think her books are so detailed and gorgeous!
This weekend will be designing for two new clients, family time and reading...duh!
What are some of your favorite things from July? What are your plans for the weekend?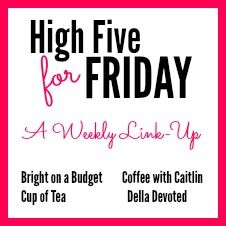 Linking up High Five for Friday with
Bright on a Budget
,
Coffee with Caitlin
,
Cup of Tea
, and
Della Devoted
!!! Also found another
Heather
in blogland that has a Friday favs link up!