I don't really have any firm plans this weekend but I'm off Monday and really excited to spend some time by the pool reading!!!
1. I saw people wearing these at Universal when we were there and my flip flops are more for fancier wear than comfort, if that makes sense. Plus I wanted something that had more support than a flip flop. The reviewers everywhere loved them, so I
ordered a pair
and while I wish they went better with all of my dresses, lol I'm very happy with them when I think they match my outfit! Super comfy!
2. I already talked about Ben and Jerry's The Tonight Dough, but I found more at Target, on sale so I had to buy them all. It's very rich, so a couple of scoops is more than plenty. It's nice to have them stocked in my freezer for emergencies.
3. I've been using the doTerra oils I received in the Family Physician kit, but my favorites are definitely Breathe and Lavender. I love putting them on my chest just before bed. I'm still learning how to use the other ones and I'm not as diligent about treating with them yet, so not many results to post.
4.
Ride Steady
comes out on Tuesday and I'll be doing a full review of it then. If you're looking for some hot biker romance, look no further than Kristen Ashley's Chaos series.
Own the Wind
, the first in the series is on sale for 99 pennies right now and I read most of these through my library Overdrive account!!
5. The Florida Country Superfest happened again this year and we had such a blast, only attending one day this time but never the less it was still some great Country music! I can't wait until they start announcing if they are having another one and who the acts will be! You can read about
2014
and
2015
here.
What are some of your favorite things from June? What are your plans for the weekend?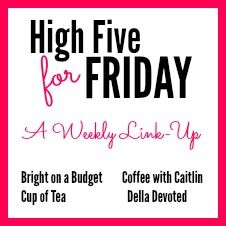 Linking up High Five for Friday with
Bright on a Budget
,
Coffee with Caitlin
,
Cup of Tea
, and
Della Devoted
!!! Also found another
Heather
in blogland that has a Friday favs link up!