Hi Friends!!
Other than nobody wanting to go the speed limit which made me be in an extra hurry this morning it's going to be a good day, positive thoughts, right?!
I'm so excited for today, this weekend and the extended day off for Memorial Day! We have a little family get together in the works that I'm looking forward to trying out a recipe from a
book
I received to review from
Blogging for Books
!!
Let's get into the favorites for this week!
Favorite Workout
Since I'm feeling better but not at 100% I went looking for a relatively easy workout and thought yoga would be the perfect thing. One of the things I really want to work on besides losing weight and getting healthier in general is my arms and this workout is just perfect for that.
Favorite Sentimental Moment
Not that I'm going to get a dog, but I definitely miss seeing Boomer waiting for me when I get home in the evenings!
Favorite Fictional Moment
Look at all the Disney princesses checking out the castle!!
Favorite Item I Need
Favorite Funny
What are some of your favs from this week? What are your plans for the weekend?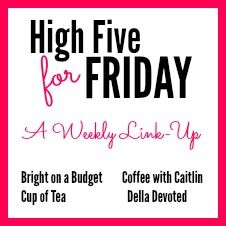 Linking up for Oh Hey, Friday with these fabulous ladies -
September FARM
and
The Farmer's Wife
. Linking up High Five for Friday with
Bright on a Budget
,
Coffee with Caitlin
,
Cup of Tea
, and
Della Devoted
!!! Also found another
Heather
in blogland that has a Friday favs link up!