Instead of doing the round up of favorite things I've found or experienced recently I thought I would look forward to the month that's coming. The weather has been gorgeous in Florida the last two days and it's expected to last through the weekend. *fingers crossed*
1. Moving!!
It's been a long time coming and I have major packing to do this weekend so I don't imagine my Monday post will be any fun if it happens. It's technically my Monday off but I'll be at work for closing out the previous month.
2. Universal Studios Day!
S and I have a planned Universal day on Wednesday, so I'm looking forward to trying out some more rides and spending the day with her!!
3. Cinco De Mayo!
Even though I'm on Fit Girls Guide Challenge, I'm going to have to find their Fit Girls nacho recipe or just have some plain ol' good chips and salsa. A margarita shall be had as well, I mean...duh!
4. Hairstyle!!
I'm getting some more color added to my hair, and while I thought I was also going to get it cut I've realized I need it to grow long enough for a pony tail asap! Short hair and Florida heat just aren't mixing so well for me.
5. Memorial Day!!
An extra day off work and I'll be in my new place so if everything is set up maybe I'll have a party!
What are some of your favorite things coming up this month? What are your plans for the weekend?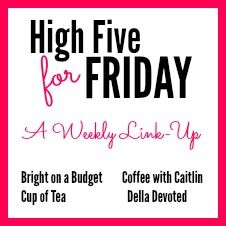 Linking up for Oh Hey, Friday with these fabulous ladies -
September FARM
and
The Farmer's Wife
. Linking up High Five for Friday with
Bright on a Budget
,
Coffee with Caitlin
,
Cup of Tea
, and
Della Devoted
!!! Also found another
Heather
in blogland that has a Friday favs link up!