1// OMG Full House is being picked up by Netflix as
Fuller House
and I am actually pretty excited about it. I'm sure my mom will be too.
2// I put my name and $$$ down for an apartment on Monday and I'm super excited to move into this cute little apartment! I've been waiting for this and I cannot wait to share about my move and my first apartment. I feel like a college grad or something but really I'm just finally moving out of my parents house and trying not to be such a scaredy cat!
3// On the Fit Girls Guide, the Pita Pizza Party dinners have been absolutely delicious. Who knew a Pita Pizza could be so tasty?
4// Did you see #2? Well, I'm about to get much tighter budget wise so I'm looking at challenging myself to doing something like this
$27 a week Grocery Plan
.
5// This
Mother's Day necklace
. My mom actually sent us this link which was awesome so we knew exactly what to get her!
What are some of your favs from this week? What are your plans for the weekend?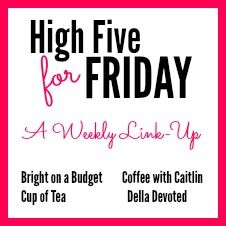 Linking up for Oh Hey, Friday with these fabulous ladies -
September FARM
and
The Farmer's Wife
. Linking up High Five for Friday with
Bright on a Budget
,
Coffee with Caitlin
,
Cup of Tea
, and
Della Devoted
!!! Also found another
Heather
in blogland that has a Friday favs link up!