I missed the All About the Books Blog Post that happened Tuesday, and to keep myself from having to blog about 30+ books in ONE post next month I'm trying to finish that up. It's a little hard to blog about books when I don't want to stop reading, lol.
Besides that - I have some Friday Favs to finally share with you. These were all purchased off Amazon, so it's obviously my jam.
After the Orlando MegaCon this past weekend I had a couple of things that I was looking for and DID NOT find, so hello Amazon!
1.
As soon as S and I park hopped (and shopped) between Islands of Adventure and Universal Studios, we realized pretty quickly that we needed to invest in lanyards. She actually found one at MegaCon a HP one that was a couple dollars cheaper than Universal but I could NOT find a Sons of Anarchy one so I found this one online and I can't wait to wear it!!
2.
Being the large comic convention and having housed a huge Star Trek cast a couple years ago I thought I would be able to find a Star Trek or Star Wars thing for my dad. Well, it was pretty overwhelming looking at shirts so after the 10th booth with crowds I figured I would check good ol' Amazon and BAM found this one for $12!
3.
I actually ordered this before we went because I have vowed to NEVER go to an amusement park again without a hat. When it rains, I HATE getting it in my eyes and on my face so I always take or wear one. This time it rained and I whipped out my SoA hat and poncho. Bam!
4.
This came in from Amazon a few days before MegaCon and I asked my dad the NIGHT BEFORE if he would be up to help me put it on. Well, I left and forgot to get him to help. When I got back on Sunday I saw that my old broken frame was laying on the table with the packaging and he'd put it on before I left. *tear* Love my dad!
5.
This plant ISN'T something I was looking for at MegaCon, BUT with all the sickness I thought it would be good to get a healthy plant in my workspace. It's supposed to come in next week and I'm sure I'll share pics on
Insta
, so make sure you're following
me
!!
This is also where I'll be sharing my Fit Girls Guide posts which starts MONDAY!!
What are some of your favs from this week? What are your plans for the weekend?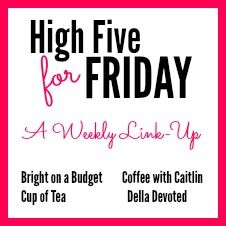 Linking up for Oh Hey, Friday with these fabulous ladies -
September FARM
and
The Farmer's Wife
. Linking up High Five for Friday with
Bright on a Budget
,
Coffee with Caitlin
,
Cup of Tea
, and
Della Devoted
!!! Also found another
Heather
in blogland that has a Friday favs link up!