I'm tired, and definitely haven't caught up on my sleep from Wednesday night but so thankful it's Friday!
1. Let's start with funnies today, shall we?
2. Favorite of the week was definitely the Meet + Sweet The Blogger Meetup put together that I went to. The drive was totally worth it to get to meet
Deborah
and
Kate
! I borrowed their pics from instagram because none of mine have US!
3. Motorcycle Club Books - Right now I'm reading through Kristen Ashley's Chaos series and while I think it's too wordy for me like books of hers I've tried in the past it's feeding my addiction! Only two books out right now, so I'll be on the look out for my next MC fix soon.
4. It's no secret I love mail, and I love being the one to surprise someone's mailbox. I joined an Instagram swap for Easter - the #instaeasterbasket swap and while I was late getting my match I've had so much fun putting it together. This has taught me I prefer it to be a secret rather than getting to know someone I think. Thanks to
@_whiteafterlaborday
for putting all of this together!
I actually don't have a pic of all the stuff I bought yet, so I'll have to share that as a separate post, oh darn! If you want to see pics drop that hashtag into Google and look at all the cute stuff that's being sent!
5. I really want to attempt this hairstyle. Kind of the fauxhawk thing with braiding and volume. Maybe I'll spend some time on that this weekend.
Oh! I'm headed to Kenny tomorrow night with S and I just can't wait. He's one of my favorites to see live, puts on a great show and we're going to a different venue that I haven't been to in decades!
What are some of your favs from this week? What are your plans for the weekend?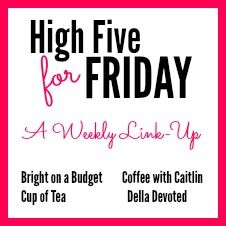 Linking up for Oh Hey, Friday with these fabulous ladies -
September FARM
and
The Farmer's Wife
. Linking up High Five for Friday with
Bright on a Budget
,
Coffee with Caitlin
,
Cup of Tea
, and
Della Devoted
!!! Also found another
Heather
in blogland that has a Friday favs link up!