Friday the 13th?! Are you superstitious?
The drive in this week has been fabulous and today was even better. Does traffic change for you when school's out? It does here in the Tampa Bay area and I mean, can't all the kids be home schooled? That would make my commute better all the time and not just during the Summer and other breaks.
I did a lot of shopping online this week, and below you'll find some of those!!
HEA Obsessed, which given the name of my blog is a good thing! I signed up for a Blogger Meet + Sweet Event in Orlando and wanted to see if there was a Happily Ever After shirt I could possibly wear.
It's sooo cute!
I still may not wear it because I'm all about the dresses, BUT I'm planning on wearing it to Disney in April!
I was on Pinterest last night and stumbled upon this cute idea. I don't usually hand something out at work to the girls, but they're always so appreciative I thought this was a cheap/easy way to show some green love. I ordered the candy on
Amazon
and had to pay a little extra for shipping but not really a bad price considering I didn't have to leave my house!!! Thanks Prime for $3.99 1 day shipping!
Since I talked about trying to get my life in order I realized there were some things holding me back I could take care of. One of them is my room and the fact that I've been putting off buying furniture until I move. Well, I found these night stands on Amazon and thought they'd go in my room perfectly. Plus almost
2 for the price of 1
was a good deal to me.
I saw a couple of real girl pics from this challenge and am thinking about signing up. I even signed up for a separate Insta account so I could post real pics on there with other fit girl participants. Now I'm not so sure I should even separate. I don't have any haters yet, so it might be safe to post here. Have any of you heard or tried this? Would you use a different account? I'd have to log out each time I want to post.
Favorite Youtuber
- I have several that I'll be mentioning, but this girl really reminds me of a friend that moved away. So, I love watching her videos PLUS she's a makeup artist and her hair is always so cute! This is the first video I found her in because she did a review of the Tarte Palette like
I did
.
Today is the LAST day to enter to
win $175 Paypal cash
that friends are giving away!!
What are some of your favs from this week? Any plans for the weekend? I'll be on my no reading ban and plan on having lots of progress to share Monday!!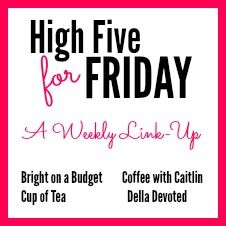 Linking up for Oh Hey, Friday with these fabulous ladies -
September FARM
and
The Farmer's Wife
. Linking up High Five for Friday with
Bright on a Budget
,
Coffee with Caitlin
,
Cup of Tea
, and
Della Devoted
!!! Also found another
Heather
in blogland that has a Friday favs link up!