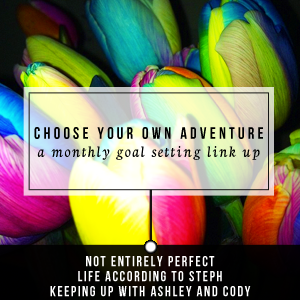 This post should be title Heather Fails at all things in February. On top of not doing any of the creative things listed, I also "started" lent not wanting to buy makeup and that has definitely not happened.
These were my February creative goals, and even though I am a creative I just didn't do any of these things this month.
This month the challenge is Create. I've listed things for each category that I'd like to get done and if I accomplish only one it will have been a success!
DIY:
One of the things I purchased almost all of the supplies for was a vanity area. Now, I bought this stuff during my
LAST January
spending challenge as one of the things I was allowed to spend money on but I've done NOTHING to actually put it together.
Recipe:
I want to share one recipe a month and this month there isn't one on the book so I need to look through my recipe arsenal and do all the work that goes into sharing a recipe on the blog. What kind of recipe would you like to see?
Art:
I bought more little canvases to paint Tiffany blue and I still have my large canvases that I need to cover up with the simple design, lol.
Fashion:
I need to pull out my screen printing stuff again and get my ideas out of my head. It just takes a lot more time than I've been wanting to invest.
Since I didn't do any of those things, what did I do creatively?
I created graphics for my side business, HEA Ink. I baked cupcakes and made cute little cake in a jar things with the leftover batter. I perfected using my makeup with the Beauty Blender.
For March, the goal is relationships and even though I constantly think about my relationship with myself I want to focus on bettering myself. Eating healthy, drinking tons of water and exercising. The light shall finally be on when I get home from work thanks to DST FINALLY starting this weekend. So, that means I can't use that as an excuse anymore!
I also want to improve the relationship with my sister. We have pretty opposite schedules with her being a bartender up all night and me being a 7-5 gal it's a little hard to get phone time. I'm pretty much sure of her days off and I want to make an effort to call her on those days.
Work friends are important and we've had a blast the few times we've all grabbed a drink after work so I want to try and organize one of those this month.
What are you doing to strengthen your relationships with others and yourself?
Now it's time for a Birthday + Blogiversary Giveaway with my friends!!
Today I'm turning 30 and it's very cool that it's my Birthday but it's also a pretty big mile marker age, right?
Well, I never wanted to forget when I started my blog so I launched it on my Birthday two years ago making it a Blogiversary as well.
Last year I didn't do much but this year I kind of did it up. On top of the $175 Paypal cash with my friends, I've been collecting things and will post that giveaway SPECIFICALLY for MY blog readers and friends tomorrow!!
a Rafflecopter giveaway