OMG Friday I never thought you would get here!
Today is the day Fifty Shades of Grey comes to the big screen and that is such a crazy thought to me. I remember when the Twilight fandom EXPLODED and almost everybody was reading Master of the Universe and proclaiming themselves bunker babes. I was too busy doing other things to jump on board and heard it had some weird parts so I never read it until ONE day when I was watching the news and they were talking about the surprising book that topped the bestseller lists. Fifty Shades of Grey was making major NEWS, what? Before I read it though, I pulled most of my fics, and changed my fanfiction name because I did NOT want anybody to find out I wrote smut along with thousands of other women.
Then the craziest thing happened. All of these stories that I had read and sometimes loved were being published for the masses to read. Beautiful Bastard, Wallbanger, Clipped Wings, etc. I could pick up a book and recommend it to a friend and I LOVED it! There was even a book I paid for that I had not read as a fic and loved. When I found out it was former fic, I was like "what?" I remember this author now. She was part of a select group I just never got around to reading.
Now that I've probably given you way too much info about Fifty Shades and fanfiction pull-to-publish, let's get into the Favs of the week! Also make sure to check out my
non-makeup beauty favs
and the
Veet® Infini'Silk™ Giveaway
I have going on.
1.
Lauren Conrad
is one of my favorite celeb bloggers. I know she has a team that helps her out, but if I could hire my own team I would too. For Valentine's Day she shared these
hand lettered cards
featuring some fictional and/or celeb couples. I just wish it would have been sooner so I could have mailed some out!
2.
Biana
shared a bunch of her favorite links from the week and I thoroughly enjoyed reading though
this one
about what entrepreneurs wish they'd known BEFORE. As bloggers we're all entrepreneurs in our own right, right?
3. I know I've mentioned Classpass a couple of times, but you guys I'm seriously loving the flexibility of it and being able to try out a TON of different kind of classes. I'm learning I don't really like the high intensity cardio classes though I've only done one of those so far AND I signed up for one more, lol. I've done four different kinds of classes and signed up for three more next week. If you have Classpass in your area you should submit your email, and even if they're not in your area still submit your email because you'll be part of the first group that gets the opportunity to join once they do come to your area. They aren't paying me money, I just think it's a great deal!
4. I always like a good quiz, even when it is Valentine's Day themed...thanks
Erin
for doing another one of these.
5. Fav thing that happened this week?! I finally joined Tampa Bay Bloggers, and was accepted! They also announced their #TBBGetSocial
first workshop
and I'm excited to attend that in March!
Tomorrow I have a special Saturday post to celebrate Fifty some more with
FIFTY blog post ideas
, so make sure to check back!
Who's going to see the movie?!
What were some of your favs recently?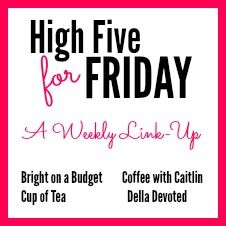 Linking up for Oh Hey, Friday with these fabulous ladies -
September FARM
and
The Farmer's Wife
. Linking up High Five for Friday with
Bright on a Budget
,
Coffee with Caitlin
,
Cup of Tea
, and
Della Devoted
!!!