Am I the only one that loves shortening words and coming up with random acronyms like Pita = Pain In The Ass, ha!
It's Friiiiday and OMG I'm so excited! I'm heading with S tomorrow to Jax to maybe find her an apartment. I haven't been apartment hunting since we looked at living together TWO years ago, so I'm looking forward to it AND also finding some cool new places to try. Now onto my FAVS!
1// I'm absolutely loving this
Kate Spade cu
p with the books on it!!
2// When I bought this
Bare Minerals foundation kit
I was told it was an outlet exclusive, but I'm so excited to find out it's not because it's been wonderful! I love the application process and the only con is that it doesn't have the staying powder of my liquid foundation.
3// I ordered several things that were on my "to buy" list from Amazon and most of them should be in today!! Plus I finally ordered the Fix+ from MAC and I'm excited to see how that compares to Urban Decay's All Nighter.
4// I love oreos and I love booze, so I hope I have an excuse to try
these
soon!
5//Haha, this
old man haircut
for misbehaving children, I would say specifically boys but it makes me wonder what a good punishment would be for little girls!
6// What?! Yes I extended my usual list to include a few more things - I signed up for
ClassPass
and I'm both scared and excited about it!
7// So excited for Starbucks to start offering
Coconut milk as a non-dairy option
. While I would have preferred almond or cashew milk, I understand the nut allergy concern.
Don't miss your chance to
WIN your very own Veet® Infini'Silk™
!!
What were some of your favs recently?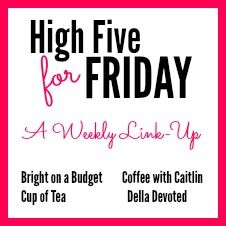 Linking up for Oh Hey, Friday with these fabulous ladies -
September FARM
and
The Farmer's Wife
. Linking up High Five for Friday with
Bright on a Budget
,
Coffee with Caitlin
,
Cup of Tea
, and
Della Devoted
!!!