I'm really excited to be linking up with Steph for Choose Your Own Adventure for the first time!! But first, I need to recap how I did on my January Challenges.
Also, don't forget to enter the
Veet® Infini'Silk™ giveaway
!!
January Challenges
1. No Buying Books:
I bought 5 books, all on sale and I had a gift card for 2 of them!! I would say this was a freaking success! I utilized the library and Overdrive a lot this month. Even found a new digital online lender Hoopla through the library for audio books. I don't see stopping that and saving money where I can. I also did not drink coffee or spend any money at Starbucks this month. It was just a win/win all around for the most part!
Out of all the books I read in January (16!) most were Library via Overdrive. Does your library have Overdrive where you have access to their digital lending library? I love it!!
2. No More than 5 Meals Out:
Technically I purchased ONE meal for my mom and I on a Monday off but she was sick and wanted Panera so I got it for us. Other than that I did not go out to eat with friends or purchase any meals I "forgot". I spoiled myself at Ulta for this and am thinking about getting a few Kate Spade goodies to celebrate. Plus we ended up with a bonus at work that I was NOT expecting, yay!
3. Only one Mani-Pedi:
I didn't EVEN get ONE. I painted my nails myself and am trying to wait until my birthday to give my toes some more polish free days.
4. No frivolous spending:
I did go a little overboard with the spending the weekend I let myself and then the Monday after, BUT I managed to reign myself in and put things back I didn't need.
5. Going out on the weekend is okay:
I had enough things planned that I didn't need to go out on the weekends that weren't already planned, like Gasparilla and the scrapbook weekend.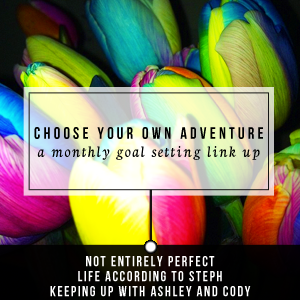 Now Onto February!!
This month the challenge is Create. I've listed things for each category that I'd like to get done and if I accomplish only one it will have been a success!
DIY:
One of the things I purchased almost all of the supplies for was a vanity area. Now, I bought this stuff during my
LAST January
spending challenge as one of the things I was allowed to spend money on but I've done NOTHING to actually put it together.
Recipe:
I want to share one recipe a month and this month there isn't one on the book so I need to look through my recipe arsenal and do all the work that goes into sharing a recipe on the blog. What kind of recipe would you like to see?
Art:
I bought more little canvases to paint Tiffany blue and I still have my large canvases that I need to cover up with the simple design, lol.
Fashion:
I need to pull out my screen printing stuff again and get my ideas out of my head. It just takes a lot more time than I've been wanting to invest.
What kind of things do you like to create?