It's the last weekend in my twenties!!!
I feel like I said that last Friday and I would have been wrong, lol. My brother and sis have both called me so excited that I'll be turning the big 3 0 next week and it just really made me feel special. They might have also asked what I wanted for my Birthday and while I totally appreciate that they want to get me something...knowing that they're thinking of me is absolutely more important!!
1. First you must vote in my poll about which color you see. I missed this on FB yesterday because I was devouring a book, see
Hold on Tight
by Abbi Glines. Anyway, this
tumblr dress
went viral and I was asked which color I saw. Showed my parents the same image on the same screen and they both saw something else.
THIS
is the actual dress from Amazon UK.
What TWO colors are in this dress?
I love the science behind this, I mean COME ON how can we see different things when it's clearly black and blue?! Floored me. Then A texted me later and said he now saw the colors of the
actual dress
.
2. MAC sent the email the Cinderella collection was available. I debated buying the compact because hello, Disney princess dream come true. However I put it in my cart and came back from lunch and it was sold out. Along with almost everything else. Now, I'm technically not supposed to be buying makeup due to lent...but I'm so going to the MAC store on my Birthday when they'll be available "in store" to see if I can get the compact AND the HEA lip gloss. I obviously need THAT!
3. I am IN LOVE with these wine snack tray things with cork spreaders. I hate that they're green, yuck - BUT I might order it anyway. I just have to decide which one. Why so many choices?!
4. I have been super excited about this weekend for months! Ever since I bought Scotty McCreery tickets for tonight and booked my hair appointment to CHOP off my hair tomorrow I have known this would definitely be a favs weekend for sure!
5. Did I mention it's my birthday week? How can a favorite top that?!
Sooo, obviously even though I was late to work and I don't have a 3 day weekend I only have a 4 day work week next week because for my Birthday I'm finally getting to go to South Carolina!! Have you ever been? What's your favorite thing to do/eat/visit? We'll be in Charleston Saturday and I can't FREAKING wait!!
What are some of your favs from this week? Any plans for the weekend?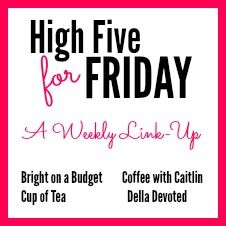 Linking up for Oh Hey, Friday with these fabulous ladies -
September FARM
and
The Farmer's Wife
. Linking up High Five for Friday with
Bright on a Budget
,
Coffee with Caitlin
,
Cup of Tea
, and
Della Devoted
!!!