Aaaah! It's the last Friday before Christmas and my sister comes on Monday!!
What?!
Next week is going to be awesome, and I thought I'd share some of the top things on my Christmas list with you.
I always start off my list with there's nothing I really need. I have a single income, no kids so I have disposable income and can almost buy the things I want within reason. Like I really wanted the Tory Burch Fitbit bracelet but I don't need it. I don't have a fancy dress up job I would use everyday, if I did I might think about investing in a piece like that but right now I can use that money in better ways.
This year I used Google Docs/Drive that way I could continue to add things, lol. I try to give my family a range of items, prices and locally available products vs. having to purchase them online.
Each picture above will take you to the original link and of couse the book pendant isn't available anymore. I'll be checking the outlet when we go shopping the day after Christmas if someone didn't get it for me before they sold out!!
So I prefaced this post with I don't really need anything and that's not entirely true. I'm still using the same robe I used in high school and it's finally bit the dust. Multiple holes, I could never wear this anywhere but at home.
The thing is it's an extremely light terry cloth material and those are harder to find even when I know I bought it at Kohl's years ago. They don't sell the same one anymore obviously, so I had to choose some that looked like they might be light but not too light. Picky isn't always good.

No Longer Available|Pink|Grey|Navy
What are some of the things on your Christmas list?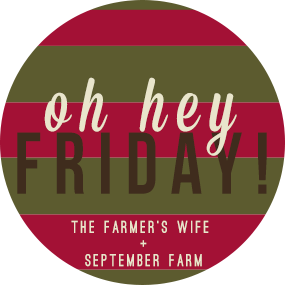 Linking up for Oh Hey, Friday with these fabulous ladies -
September FARM
and
The Farmer's Wife
.