I can't tell you how excited I was to read this book. I was tempted to stand in the super long line, early at Book Bash just to get it signed but then I decided shade in Orlando during the Summer was more important!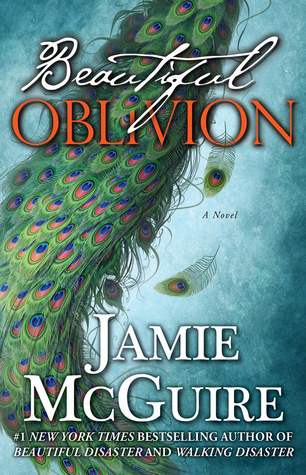 Beautiful Oblivion by Jamie McGuire
Synopsis:
The
Beautiful Disaster
and
Walking Disaster
phenomenon continues in the first heart-pounding new adult romance in The Maddox Brothers series.
Fiercely independent Camille "Cami" Camlin gladly moved on from her childhood before it was over. She has held down a job since before she could drive, and moved into her own apartment after her freshman year of college. Now tending bar at The Red Door, Cami doesn't have time for much else besides work and classes, until a trip to see her boyfriend is cancelled, leaving her with a first weekend off in almost a year.
Trenton Maddox was the king of Eastern State University, dating co-eds before he even graduated high school. His friends wanted to be him, and women wanted to tame him, but after a tragic accident turned his world upside down, Trenton leaves campus to come to grips with the crushing guilt.
Eighteen months later, Trenton is living at home with his widower father, and works full-time at a local tattoo parlor to help with the bills. Just when he thinks his life is returning to normal, he notices Cami sitting alone at a table at The Red.
As the baby sister of four rowdy brothers, Cami believes she'll have no problem keeping her new friendship with Trenton Maddox strictly platonic. But when a Maddox boy falls in love, he loves forever—even if she is the only reason their already broken family could fall apart.
In the first installment of the Maddox Brothers books, readers can experience the rush of reading Beautiful Disaster for the first time, all over again.
Amazon | BN | Kobo | iTunes
Review
I have to start this off with a very honest confession; I wasn't as impressed with
Beautiful Oblivion
as I was expecting to be. Don't get me wrong, it was a
very
good book I just don't think it blew me away like
Beautiful Disaster
did after the first time I read it. I mean, it wasn't a read in one sitting for me like it totally could have been.
I'm one of the few that feels this way since over 75% of the reviews on Amazon gave it five stars. I'm giving it 4 stars because yes, I loved Trent. I mean, he
is
a Maddox and totally swoonworthy but this book doesn't just have him. It also has Cami and though the female leads hardly get on my nerves, she did and because of that I just couldn't give it a full five stars.
If I'm being honest it's probably because it was
so
talked up in a couple of the Facebook groups I'm in and also because of those groups I was treated to many theories. So, the "secret" Cami was keeping really got on my nerves. Without giving away the "shocker" at the end, I'll say I was very disappointed in the way Cami handled her relationships with both TJ and Trent. Both deserved better and yes, it could resemble a real triangle relationship but I just felt like it was dragged out too long. I wanted more of Trent and Cami together.
My favorite part about the book was how it was creatively and seamlessly woven into the
Beautiful Disaster
story line. Which I'm sure wasn't easy so that was pretty cool. We got to see a side of Trent and Travis that we missed even in
Walking Disaster
which is Travis' side of
Beautiful Disaster
.
I'm very anxious to see how well I like the next Maddox books, and I'll probably be a little more aware of listening to theories and teasers. Normally those don't have an effect on me, this was a first if that's truly what jaded my view. :(

Now how about a giveaway?!
I met Jamie at Book Bash this past month and I got something really cool signed by her. This gorgeous butterfly jar, where the butterfly actually "flies" when you tap the jar. The cool thing about this is it's not a book so even if you're not a reader you won't care that it's signed because it's still pretty!! I mean, hopefully you've already read or purchased Beautiful Oblivion like I did!
I'm also including a peacock bag I found at Cracker Barrel and a bookmark I snagged from Jamie's table at BB.
a Rafflecopter giveaway