Another Saturday, but I'm trying really hard to share my
REAL Books
reads for the previous month on the 1st, regardless of what day of the week it falls on.
This month should be labeled with an F for reading. I got through ONE real book. I can't believe it! I really didn't finish too many
eBooks
either, because my time was spent elsewhere.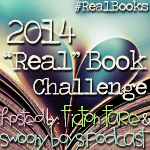 Vampire Academy by Richelle Mead
February Total: 1
Vampire Academy by Richelle Mead
was added to my list due to the 1
6 books to read
before they become movies list I talked about last month and it was pretty good. I'm excited to see how they adapted the movie, but I think I'll have to wait for $1 theaters or DVD since it doesn't appear to be playing around here. As for some who said VA was better than Twilight, you obviously don't know about my obsession with that series, and even though the books writing was subpar, I
loved
everything about Twilight! Vampire Academy was 4 Stars for me.
Synopses:
St. Vladimir's Academy isn't just any boarding school—it's a hidden place where vampires are educated in the ways of magic and half-human teens train to protect them. Rose Hathaway is a Dhampir, a bodyguard for her best friend Lissa, a Moroi Vampire Princess. They've been on the run, but now they're being dragged back to St. Vladimir's—the very place where they're most in danger. . . .
Rose and Lissa become enmeshed in forbidden romance, the Academy's ruthless social scene, and unspeakable nighttime rituals. But they must be careful lest the Strigoi—the world's fiercest and most dangerous vampires—make Lissa one of them forever.
You can keep up with my
Real Books Challenge
by following me on
Goodreads.com
and I usually try to post my real books on
Instagram
when I can.
I borrowed a library book for this one and boy did it look well read! I started a real book that
should
fall into March's challenge. It's the second in the
Hard Ink series
I mentioned was released this week!