I can't believe this spending freeze is already over, and boy did I make some purchases over the weekend that I had been "dying" to make, lol. I loved not impulse buying, but there were some things I just don't know if I'll ever be able to give up spending on. Like books! Even though I have found a renewed love for the library because of this challenge and my #realbooks challenge!
Let's recap how this little adventure turned out for me.
You'll see the first half of the month in black and the second half of the month in color since I shared my halfway point post
here
.
DIY Project Vanity - $75
($5)
$55 spent so far but haven't finished so may need to spend more.
$15.00 Vanity Seat Cushion
Dining with Friends - $30
($3.62)
$2.14 - I bought two sodas for $2 at the gas station since I needed some caffeine. It was either this or a $4 drink at Starbucks. I think I chose well.
$2.09 - met a friend at Starbucks to work on design stuff and talk. This was half the price and so many less calories than my normal drink.
$11 - lunch with same friend since we hung out longer.
$4.02 - Starbucks drink with a different friend to hang out with our laptops.
- Apparently I have a thing for meeting with friends and spending money!
$2.13 Lunch with friend at BJ's
$17.54 dinner at Zim Zari's but I used a gift card I had been saving so I really only spent $5 for the tip!
Line Dancing - $10
($10)
Didn't go when planned, so this is staying put and I don't think we'll end up going.
Reading - $10
(-$10.40)
At the halfway point, I'd purchased Qty:5 $0.99 cent books from Amazon and then I also bought a used book for $7.50. However, I've already learned my lesson. After I bought the used book for half the price of a new one, I found out the library had it for FREE. If I would have just waited TWO freaking days I could have saved that money!! In case you were wondering, I bought the used book because the digital was about $6 and you know how I feel about that!
$.99 for Not Another Soldier, Remembering us and Rock the Heart - I loved RtH sooo much and can't wait to buy the second book in the series!
$1.99 for Making Faces which I have yet to read.
$2.99 for a Digital Book birthday gift since I waited too long to order the real one that would have cost more!
I almost added more money for this category in the beginning, but if I did not purchase the gift or the used book, supporting a local used book store then I wouldn't have gone over my budget, so that's pretty good!

Eating out once a week - $50
($31.36)
$.60 - I needed some caffeine at work and didn't want the free coffee.
$4.02 - coffee for an early morning at work.
$9.03 - lunch out. I still stuck to my one per week!
This should also leave room for one coffee a week and the occasional oops I forgot my lunch in the fridge at home. That really does happen, and since I'll also be watching my waistline I don't need to be eating out.
Since I started the weight loss wiki half way through the month I stopped eating out to kill two birds with one stone, saving myself quite a bit of money and calories.
$2.99 Burrito and OJ from McD's but the OJ wasn't worth it since their machine was acting up and that's really the only reason I stopped because I was sick with a cold! Lesson learned.
$2 OJ bottle
Mani-Pedi - $60
($15)
$45 - I went with a friend to a different place that I haven't gone before but OMG they gave the best leg massages so I think it was definitely worth it. I may have to do my own nails once this month to make up for it!
Misc. Fund (-$13.99)
I sadly got a little impulse happy at the end of the month and ended up needing a small misc. fund but all of these things could have waited until I made a trip to Target after the 1st but I would have spent more in gas so it wsan't worth it to me to wait.
$2.99 Limited Edition Candy Cane Trident Layers Gum that I thought I couldn't find again until next Christmas!
$3.00 Gold bangle super clearance at Target
$1.00 Wine magnets
$2.00 Burt's Bees Face Wash Trial Size
$5.00 approx. on Misc. Christmas stuff still on clearance at K-Mart
At the half way point, I figured out if I could stay within the $235 for the whole month I would call it a win.
With that in mind. I have $92.10 left to spend for the month. Minus the $2.45 I went over for books, it's $89.65.
At the half way point, I had $89.65 left to spend and at the end of the month I still had $40.59 left in the budget! There were some things I spent money on I consider needs and didn't include. Gas, Groceries, Personal Items, etc.
Since I had given myself a budget for eating out I made a trip to the grocery store (even though I live at home) to get stuff I could have for lunches and the two nights a week I make my own meals. If I do this again, I think I will go ahead and shop before I start with a small amount budgeted for groceries half way through if needed.
Overall, I was very proud of myself and the amount of money I didn't spend. I also didn't really get out much or have the opportunity to spend a lot of money so that helped. I'm looking forward to continuing to bring my lunch to work since that really helped with money and calories.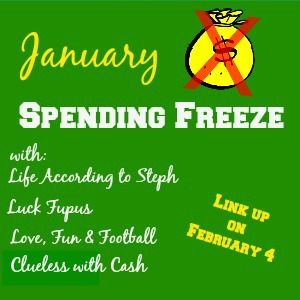 Did you participate in the challenge?