This week has been beyond belief. Especially with the tragedies stacking up and the ever wonderful heroes we've been blessed with in this Country. My heart and prayers go out to all those still dealing with the events that happened this week.
The job I have now is awesome in that we work nine hour days to enjoy every other Friday off. Awesome, right?!
Today was mine and I was soooo looking forward to it since I switched with a girl for Good Friday and worked two Fridays in a row. Yuck!
I went Country line dancing last night for a little work out...it was ladies night, no cover and free drinks. We agreed we weren't going to drink, but when you get there and they aren't playing the "regular" or "good" songs that I think of as line dances i.e. Water Melon Crawl or Copperhead Row, you can't not have a drink.
It's also amazing to me how the dynamics of the night change from 9:30 - 10:30. We go from being the youngest, to feeling like the oldest at 28. Plus, the amount of youngsters smoking rocked my world. Have they not
seen
the infomercials?! *shakes head*
Bonus points if you read that in your best Chandler Bing impersonation.
I for one would be happy dancing for days if they ever did a comeback!
So, last night was a blast and then I had lazy ideas for today and a hope to get some blog posts scheduled. Yeah, not so much. I like to read so I sat down to sunbathe and finished this book. So good, it makes my heart melt and the tears flow. I love sappy romances and if they come with some steam that's fine by me.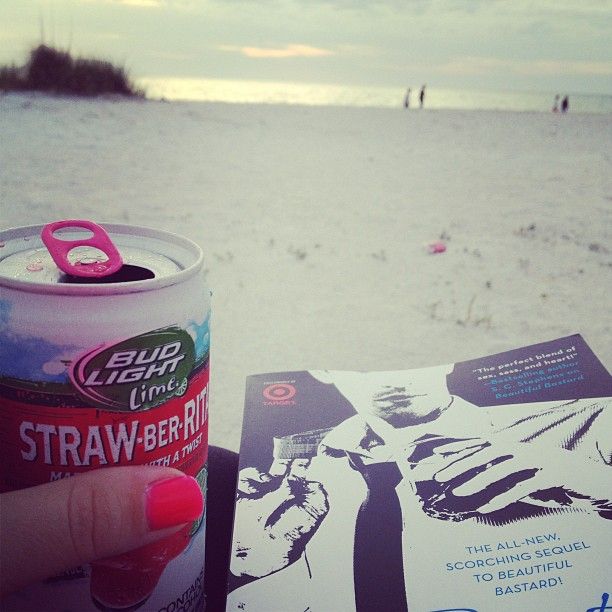 I got to know these two ladies pretty well when I was in the Twilight fandom and am so happy for their success! I also love reading their stuff and being able to share it with all my friends without going into the talk of "what is Fanfiction" *nods* that makes me sooo happy!
If you haven't checked out
Beautiful Bastard
or
Beautiful Stranger
by
Christina Lauren
, do it now!
I was supposed to work on some design for a friend, but dude - I don't even have time to finish my blog design how am I supposed to have time to do something else? Seriously though, I'll be doing that after I finish the latest episode of
The Client List
and grab some chow.
I missed the weigh in I've been participating in two weeks in a row, partly because I didn't have any good things to share ( I have a big problem with self control lately) and also because I have a hard enough time getting up in the morning, let alone making sure to blog about my weight and blogging about losing weight the night before I actually step on the scale in the morning isn't really kosher, lol. Victory was on my side so let's see if I can keep it up.
I was also on the big P this week so that always makes me feel all kinds of heavy. On the plus side, I stumbled upon this
little ditty and laughed my tuckus off!
I'm still a newbie blogger in the sense that I don't know if I'll ever be an everyday blogger or be able to commit to certain posts a week. Maybe one day I'll get there? I'm thinking I'm commitmentphobic a good chunk of the time?
Thanks for listening to my ramblings on this Friday afternoon. How about some Country? You know they played this song last night!